Can you make a silk purse out of a sow's ear? Can you make something out of next to nothing? This is what I set out to do when I made my jacket for New Designers 17.
Upcycling is very on-trend at the moment, make do and mend being very cool again, and so my jacket is made almost entirely of pre- and post-production waste to give it it's fancy name. In layman's terms, its the fabric that's scrapped either before a garment is made or after.
The basic jacket block is made from a pre-production waste fabric sample given to me by a friend (thank you P!) from a local company that is no longer in business. The layers that are added are post-production fabrics from a variety of sources: leftover scraps from dressmaking, deconstructed redundant clothing. The top layers are deconstructed worn-out shirts that I dyed. The gold layer is new fabric – paper lurex – and the sewing thread and beads are also new. I wanted to use glass beads as they would be eventually recyclable but the weight and cost put me off. I used acrylic in the end and even these were very heavy in bulk. Not great using plastic, I know, but I felt it was ok for this experimental piece.
For the basic block I radically hacked a Grainline Studio pattern – the Tamarack jacket – and this went fairly smoothly as I had a reasonable amount of the green cotton fabric to play with.
The next stages were more tricky as I tried to make up layers using odd shapes.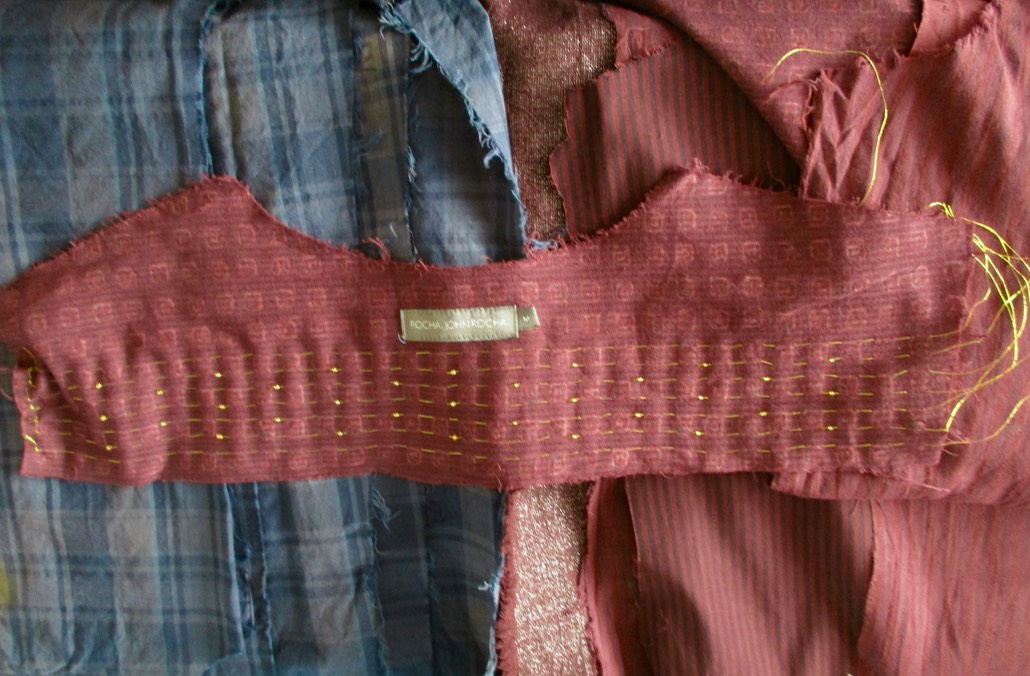 I decided early on to dye the top layers navy and burgundy to try and bring the whole jacket together visually. This was a tenuous nod to William Morris and his medieval colour palette. Adding the gold was another link. And I do like a bit of bling! 
This jacket very much evolved as time went on, with it almost taking on a life of its own at times! Originally it was to have a beaded smocked waistband and a similar collar but these became a yoke instead when I found the pieces of fabric didn't fit as planned. There were a few occasions when I wanted to just fling it out of the window when nothing seemed to fit anywhere, but I persevered!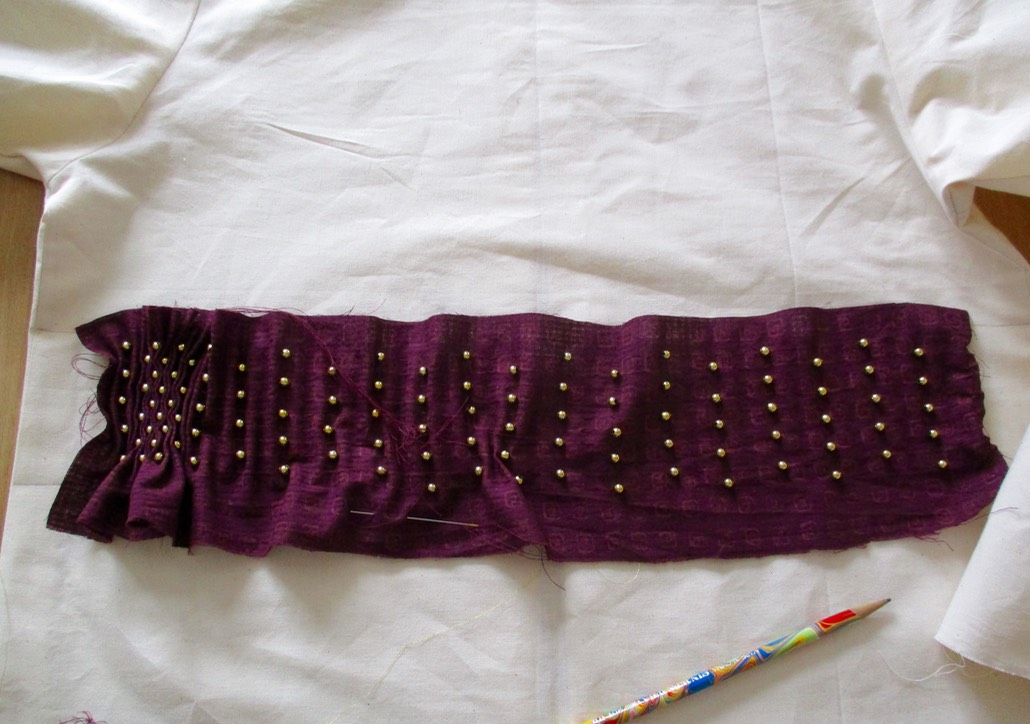 The body and sleeves were made using the layer, sew and slash method, which I  wrote about in my blog "What can you make from scraps?". This is the right front layered up and stitched...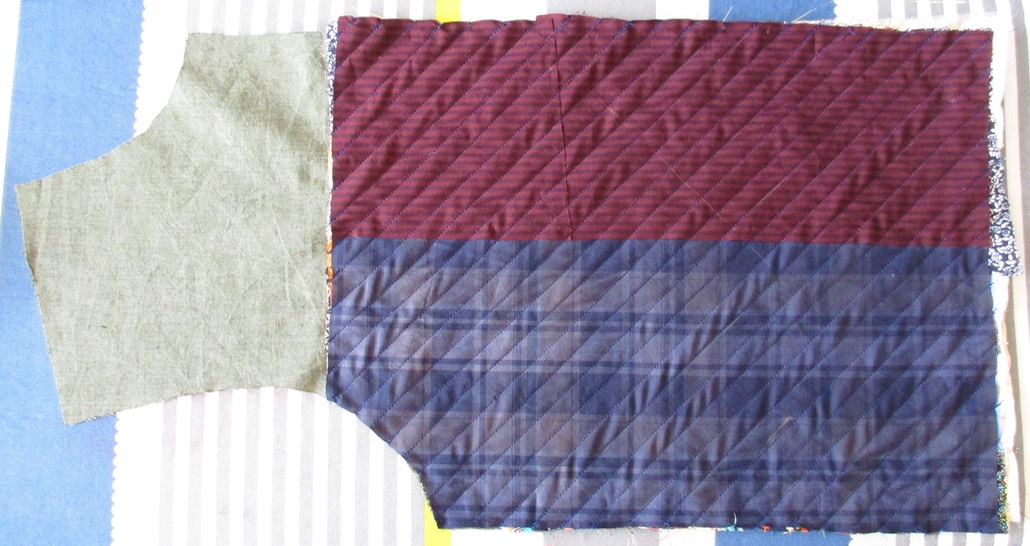 ...and the left front sewn and slashed.
Then the folds were sewn to give a rippled effect.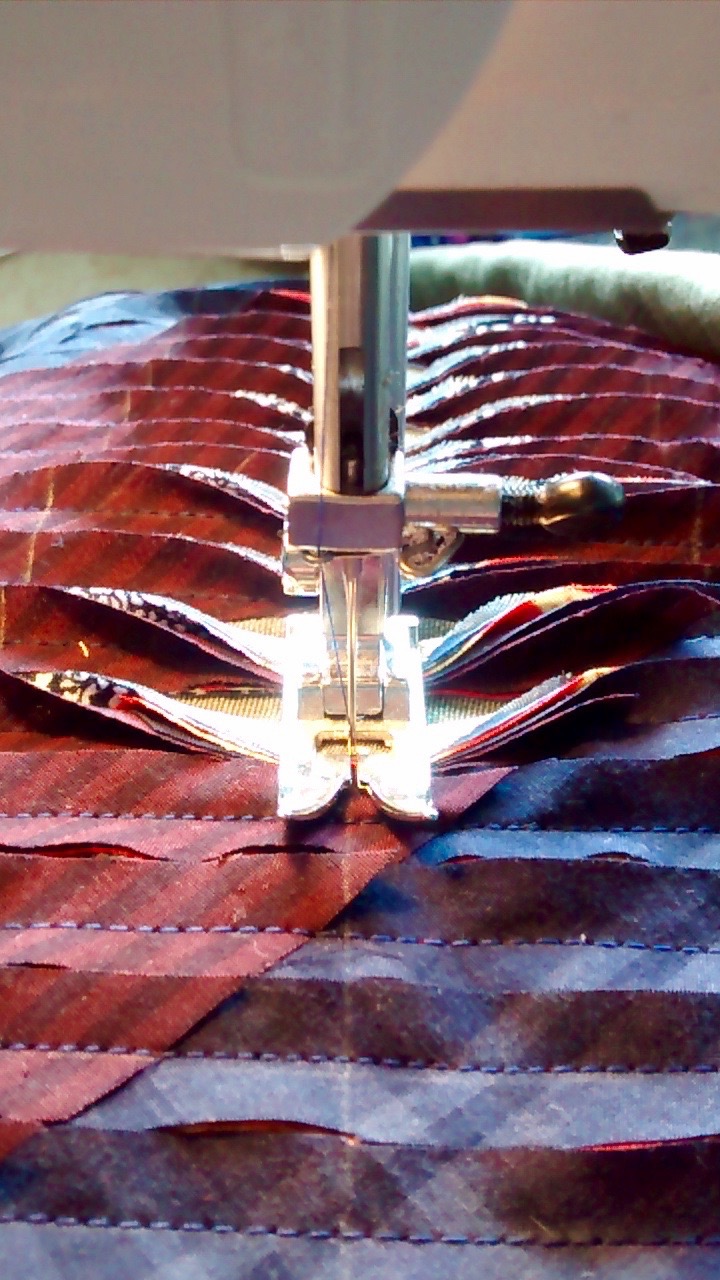 Water and reflections are a constant inspiration to me and especially since my trip to Brunei and Hong Kong this year. I love how this jacket reminds me of that.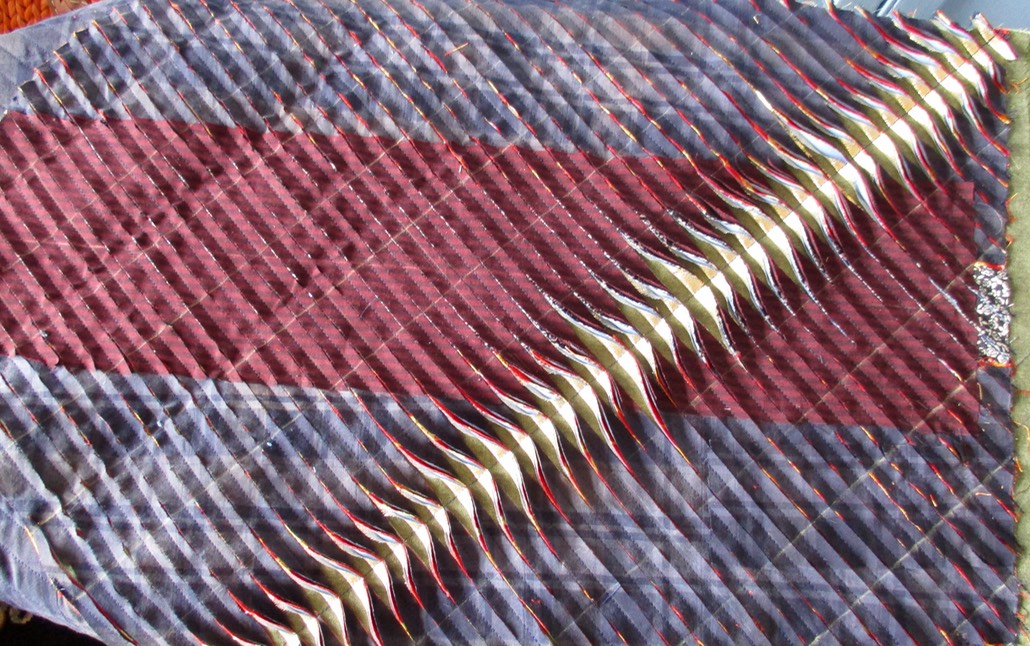 I actually sewed the middle section of the back twice. The first time I sewed lines straight across but when I slashed them the layers of fabric began to fray because they were not cut on the bias. Why did I forget this?!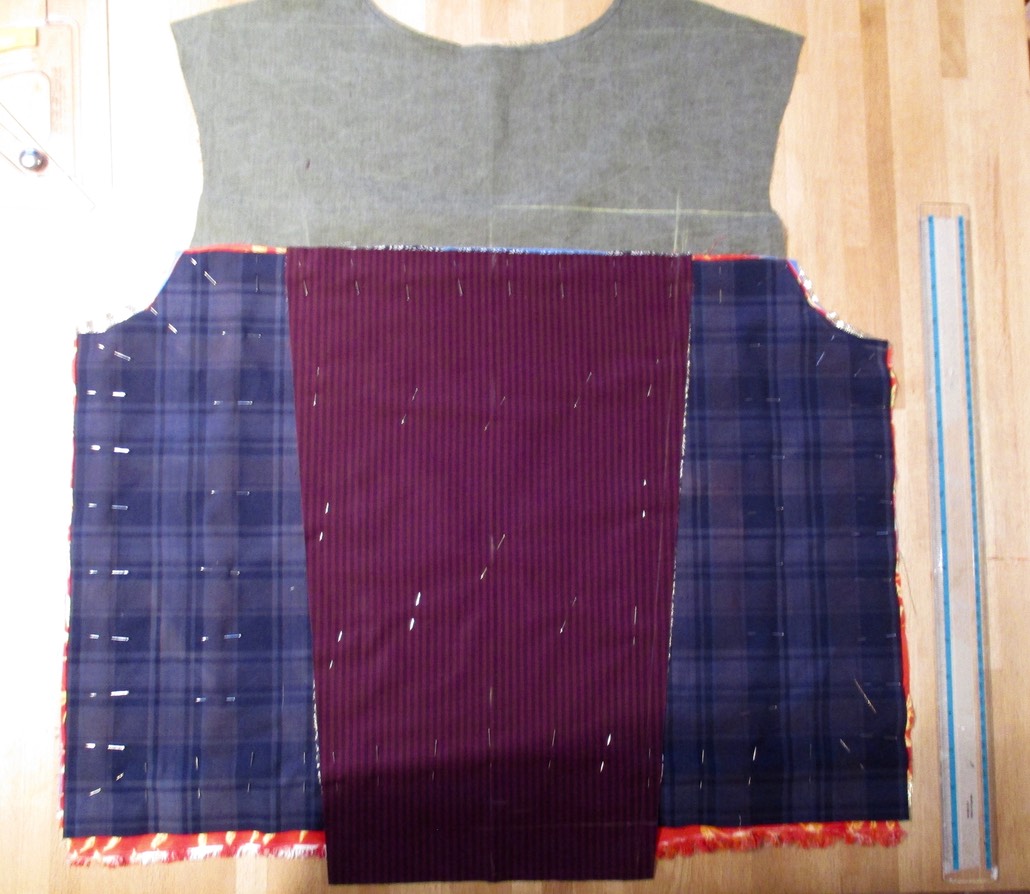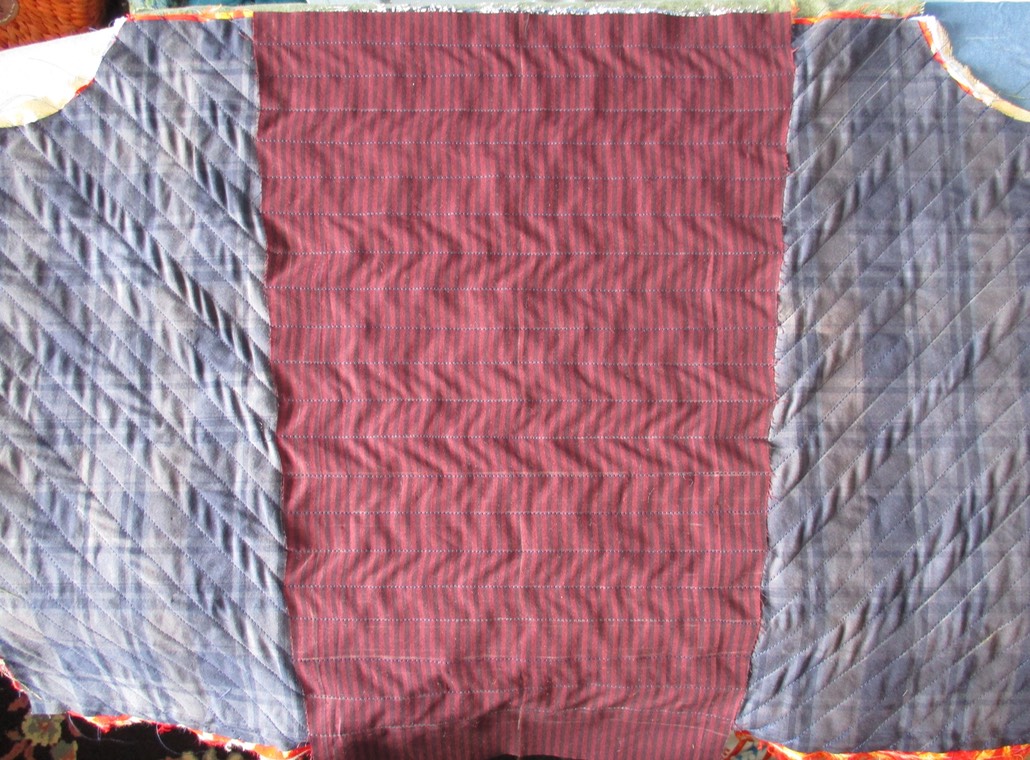 So, I undid the stitching of the middle section and rethought the lines to give cuts on the bias. There was a lot of use of the ruler and set square at this stage!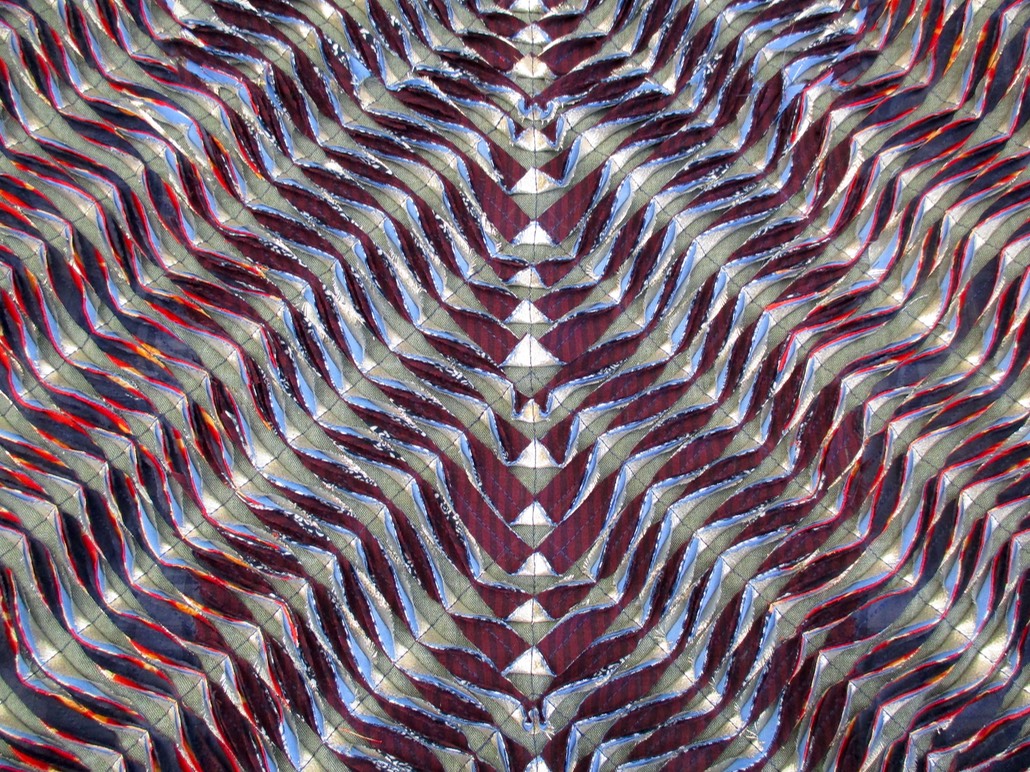 The sleeves were a doddle by comparison!
Moving on to the beaded yoke, what was I thinking! I chose to smock the yoke inserting beads as I went along. It took forever! But I really enjoyed the process and although I was really up against it, time-wise, I found I enjoyed this hand-sewing stage much more than I thought I would. And, yes, more waves!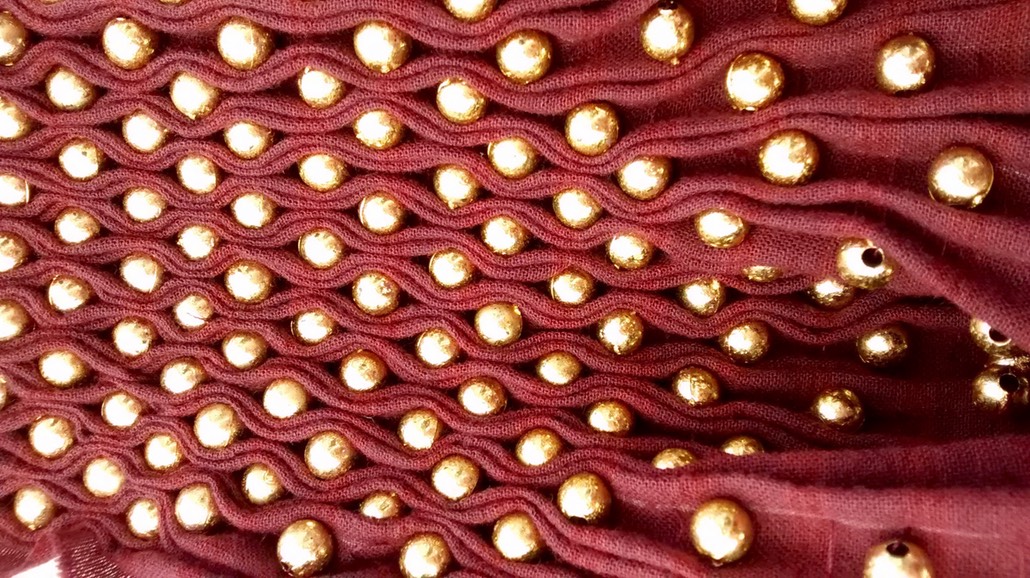 I had serious issues trying to attach the yoke to the bodice, and because it was made of separate pieces, I had to come up with ideas to hide the joins.
Epaulettes? Collars? Nah. Tried both, abandoned both! Eventually I settled on yet more beads!
The raw edges were bound with more green cotton and it was eventually complete.
Oh, did I learn a lot from making this! The end result is in some ways better than I expected, seeing as I made it mostly from waste. I'm not entirely happy with the finish of the beadwork and I think the colours would be different if I began it again. There's a weird blue cast to the gold in this photo but it's just the odd lighting.
I really like the inside! At one point I thought about lining the whole thing, but I like that you can see how it's come together, even the repairs to the damaged areas.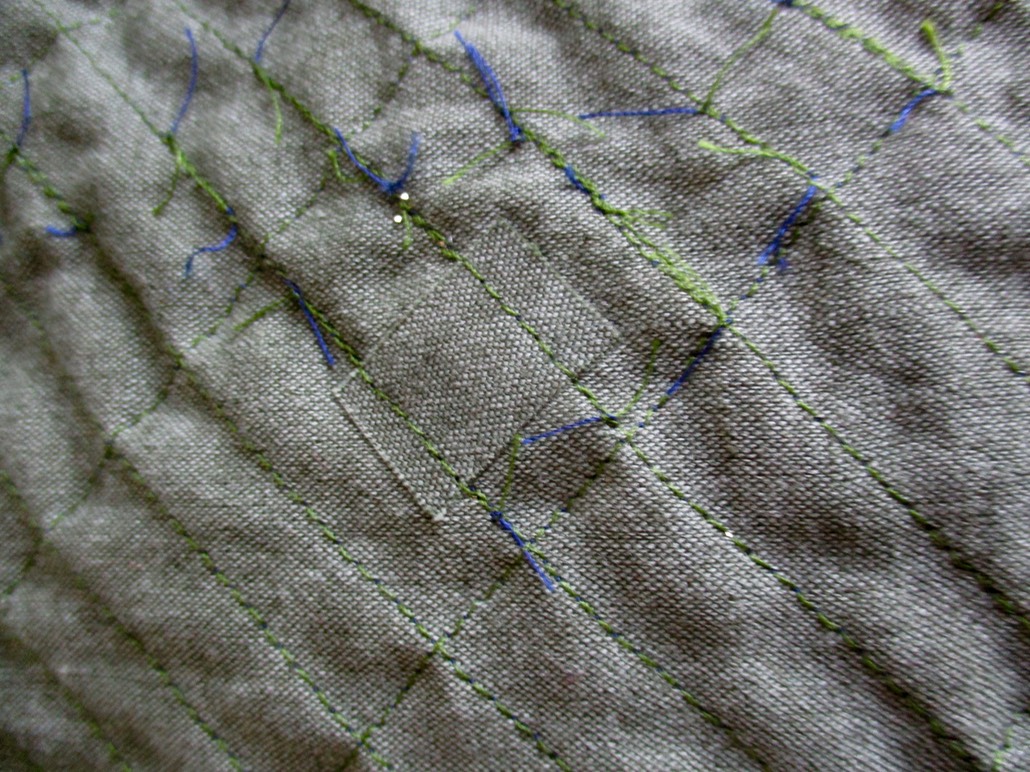 I would definitely use this method of construction again, maybe washing it to give a chenilled effect.
And now I have left over a bag of bits of shirts and so on which I would like to make into something else so I will have used up everything I can.
Overall, I'm really happy with the way this worked out. I did what I set out to do, to make a jacket mainly from waste, giving new life to scraps. However, I do know that eventually this will go to landfill. Maybe not for a long time but eventually. It's great to upcycle things but very hard to keep upcycling fabrics as they degrade so much at each stage.  More research for me to do I think!
xxxxxxxxxxxxxxxxxxxxxxxxxxxxxxxxxxxxxxxxxxxxxxxxxxxxxxxxxxxxxxxxxxxxxxxxxxxxxxx
What a busy month June turned out to be! Apart from written work hand-ins and delivering my conference paper, the general election and taking part in the count for the first time, and my birthday, every other minute was taken up preparing my work for the New Designers 17 show at the end of the month.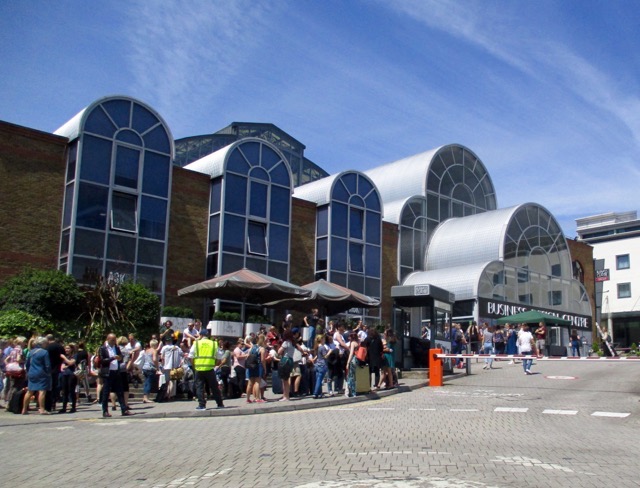 New Designers is a two-part exhibition showcasing emerging talent from universities all over the UK and takes place every year at the Business Design Centre in London.
I was very fortunate to be exhibiting alongside talented BA Design, and MA By Creative Practice students on the Liverpool Hope University stand. Ceramics, textiles, metalwork, jewellery and surface pattern made a rich display.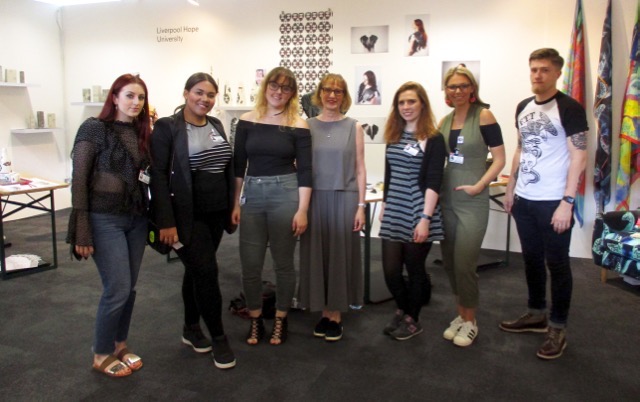 I had a lot to carry down, not least Fifi - my mannequin - in a ruck sack on my back!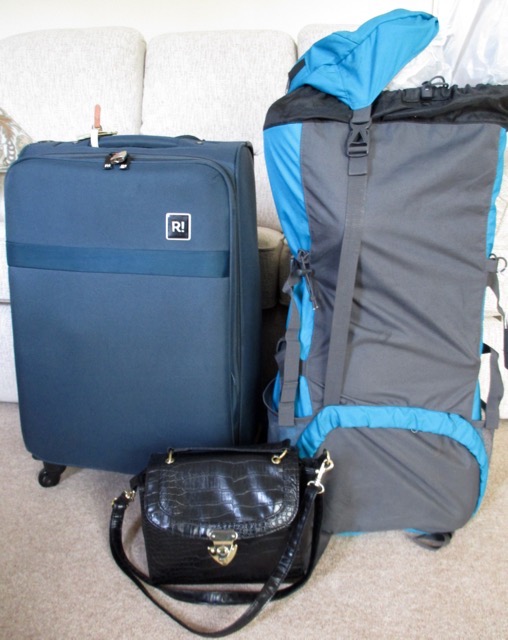 I stayed in halls nearby. I never lived in halls even as an undergrad so this was another new experience! I was lucky enough to have a flat to myself and it was lovely and quiet.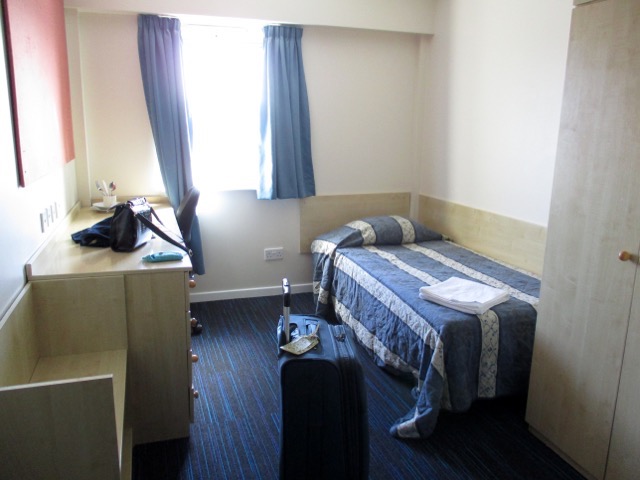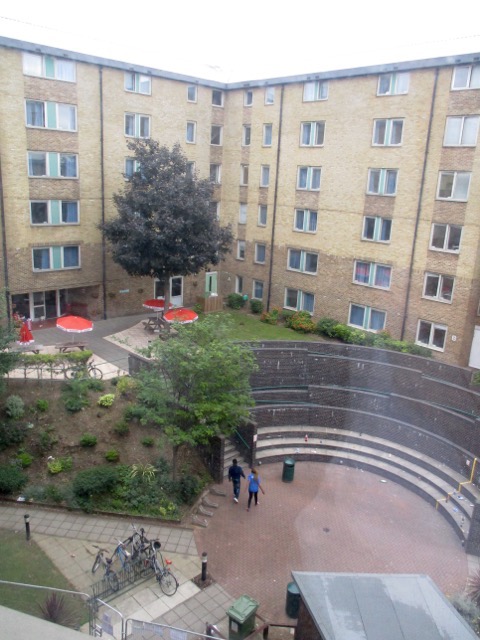 We spent Monday and Tuesday putting our stand together.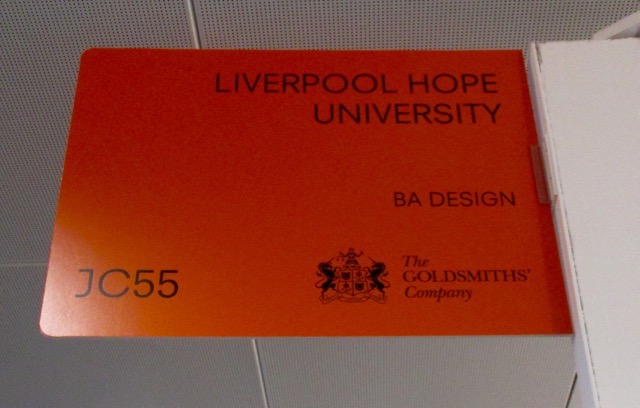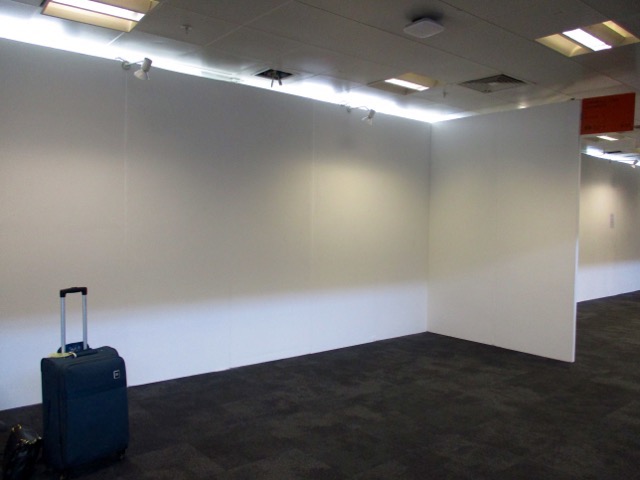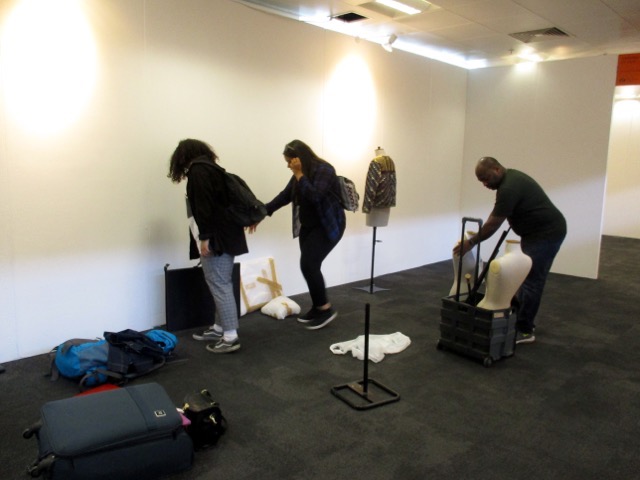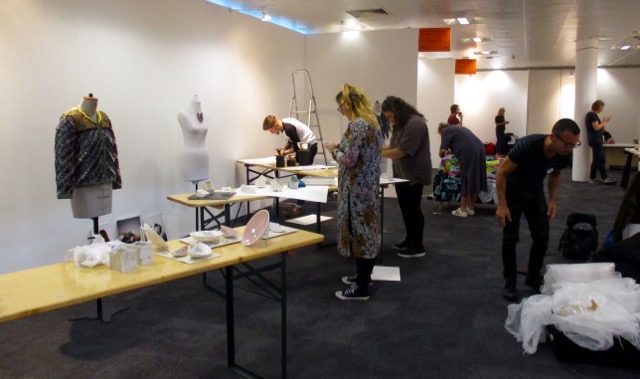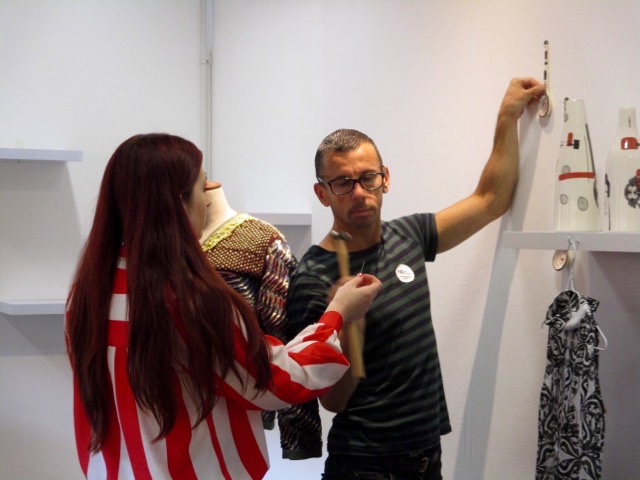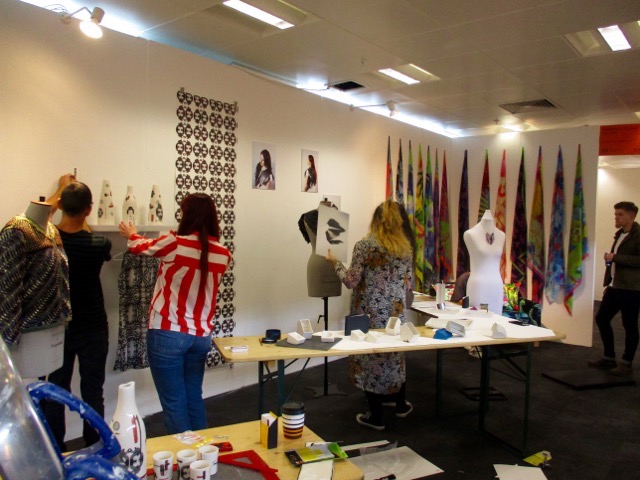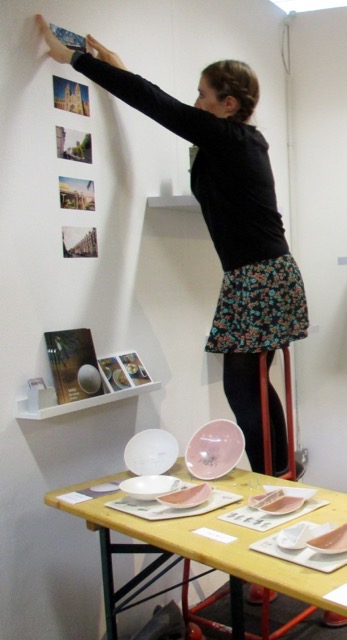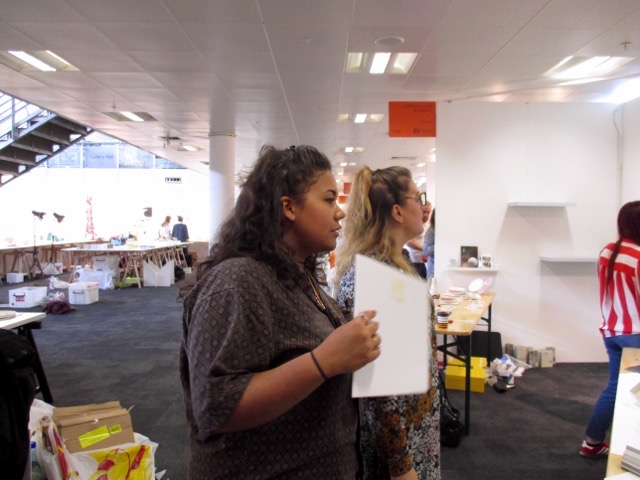 The tricky bit - adding our name!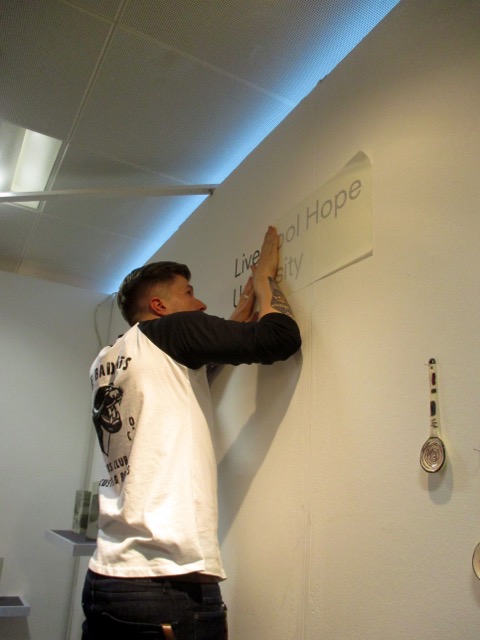 Ta dah!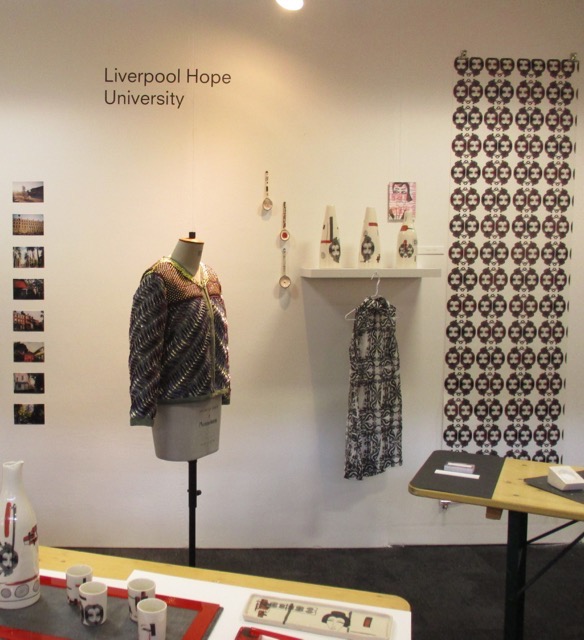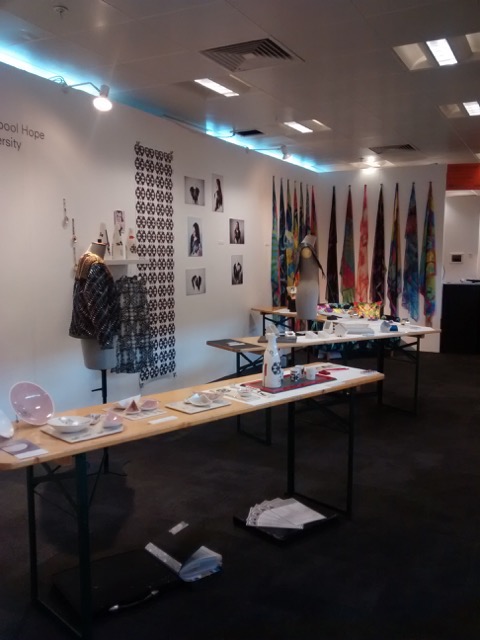 All the exhibitors came together for a briefing...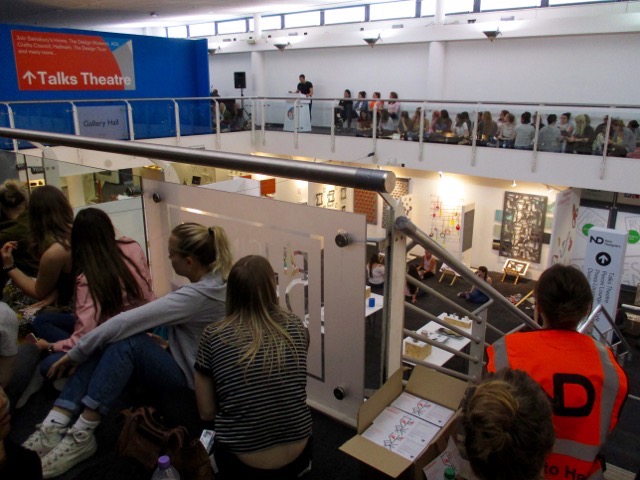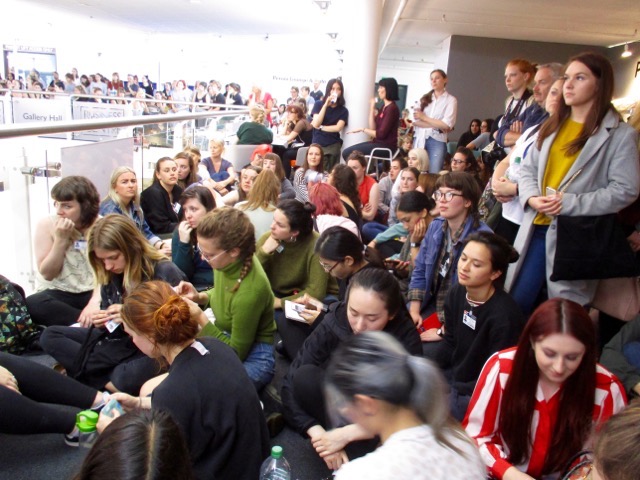 Wednesday was judging day, Private View and the Awards Ceremony. I managed a cheeky snap of one of the ceramics judges, Keith Brymer-Jones, from the Great Pottery Throw Down.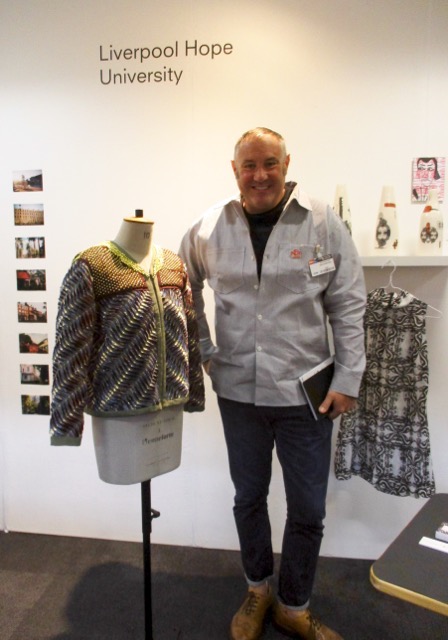 Sponsors Peroni provided the free drinks at the Private View.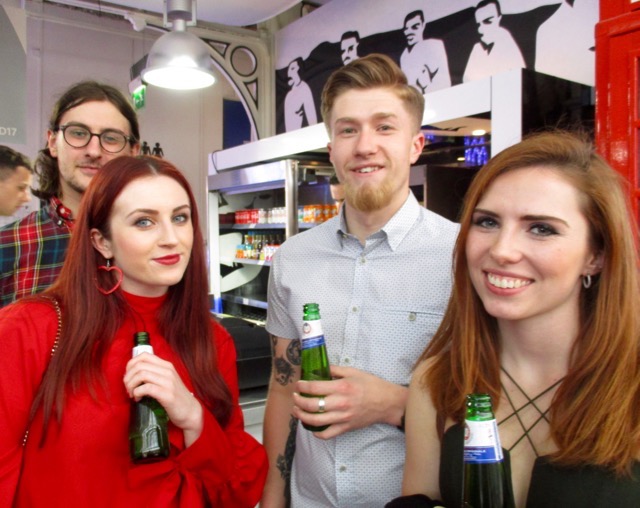 Then it was the After Party, yay!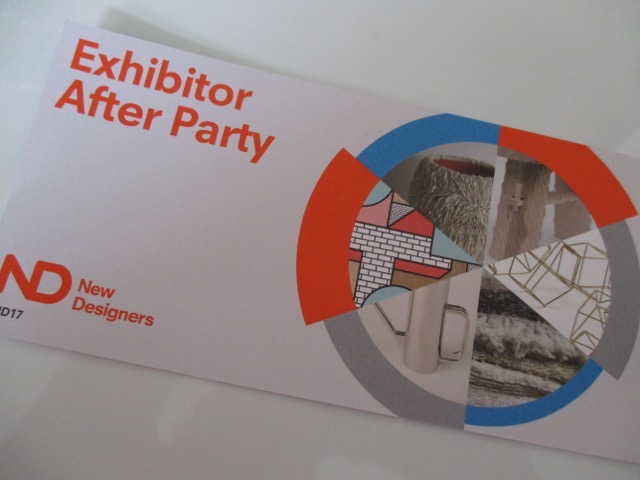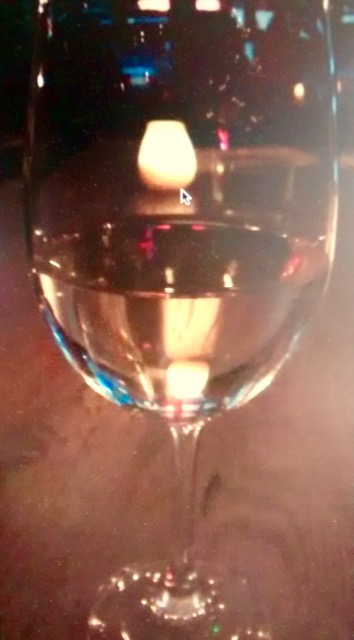 Thursday, Friday and Saturday were public viewing.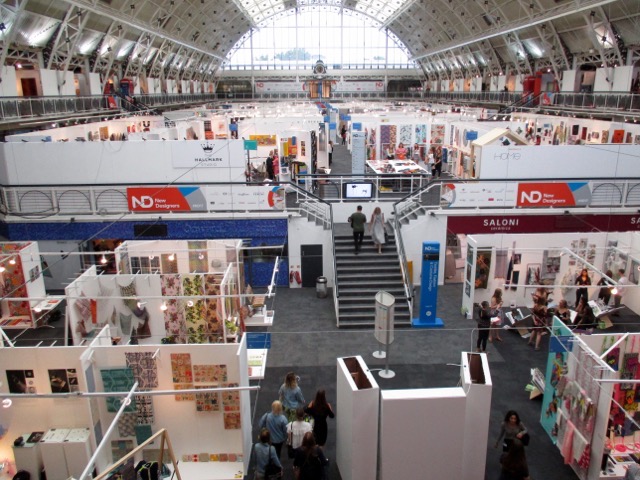 We showcased platinum lustre ceramics by Leone Davis, Japanese inspired tableware by Casey Cain...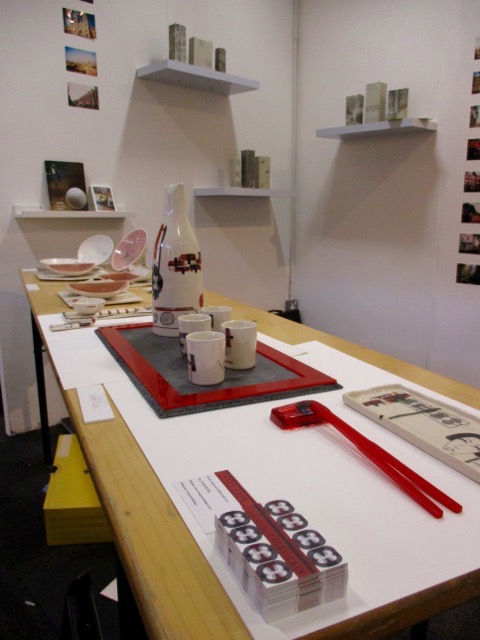 and architecturally styled ceramics by Charlotte Fahey...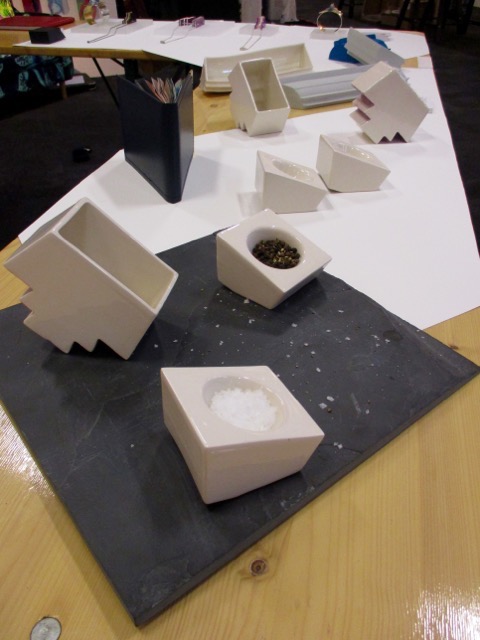 Japanese inspired printed textiles and wallpaper by Casey Cain...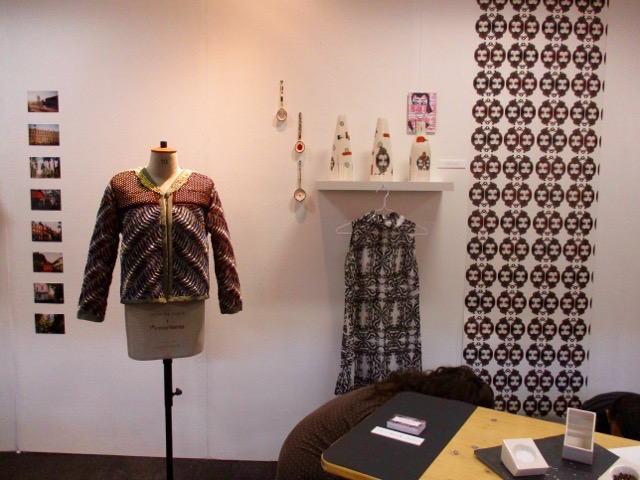 a unique perspex collar and deco inspired jewellery by Lucy Cunningham...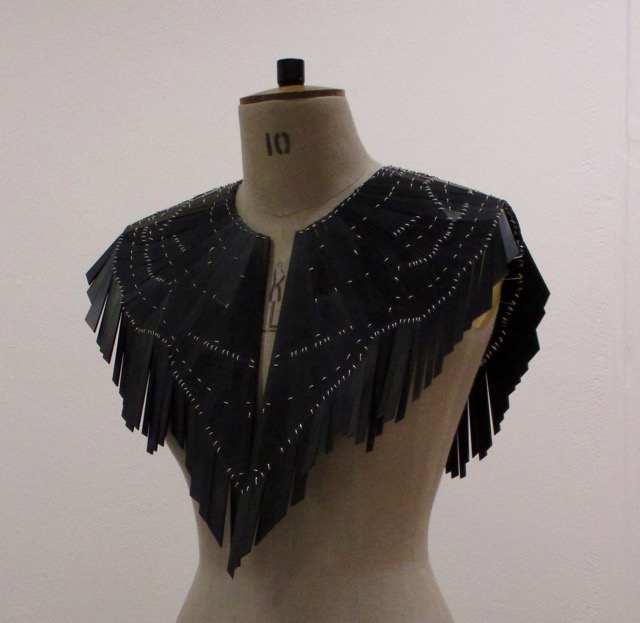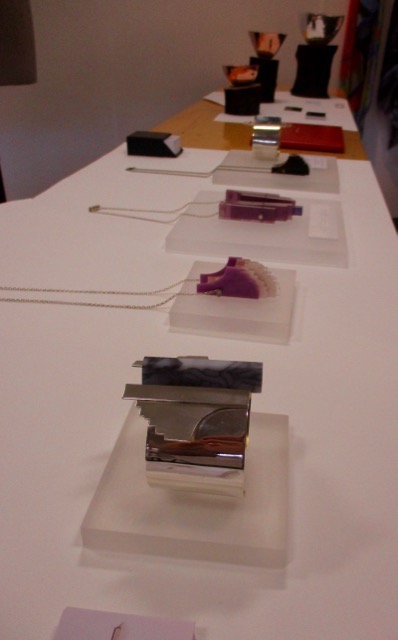 award winning silversmithing and hand-raised metalwork by Alex Owens...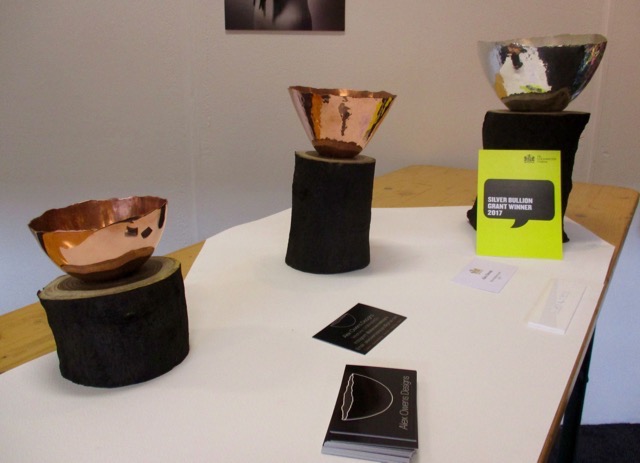 and more. 
My own work was a jacket upcycled from waste textiles, but more of that in the next post!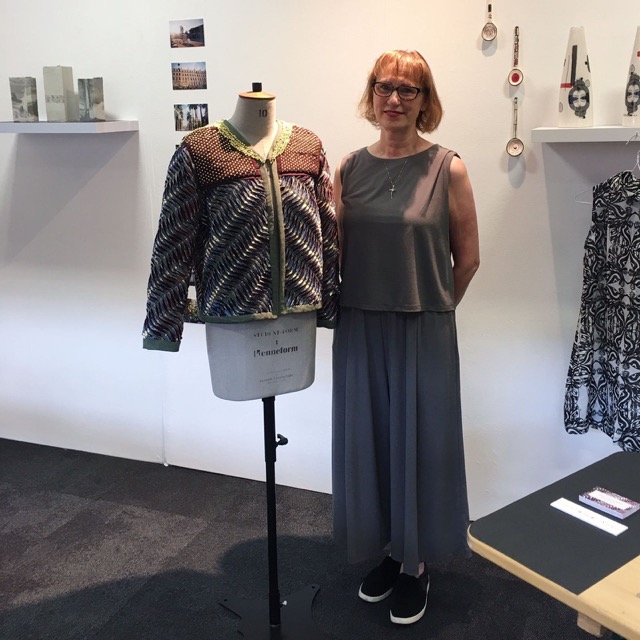 There were opportunities to talk about our work with judges and visitors...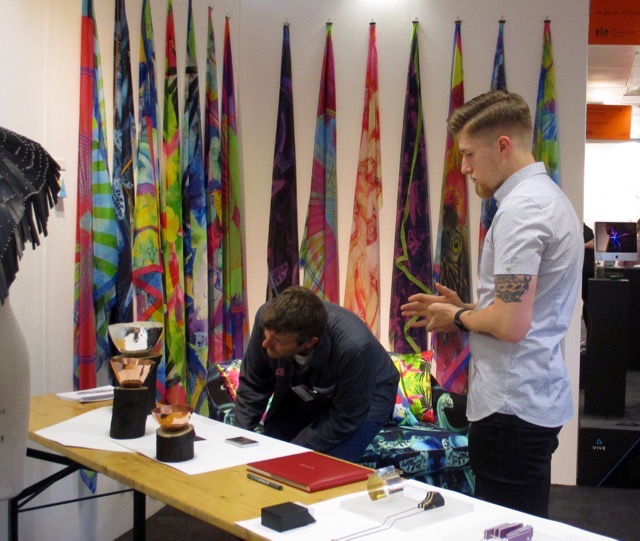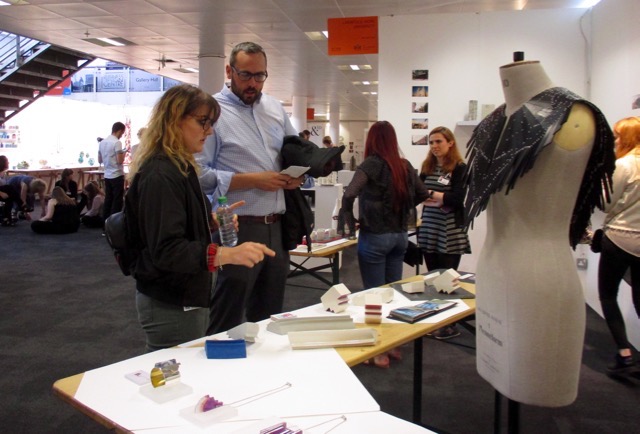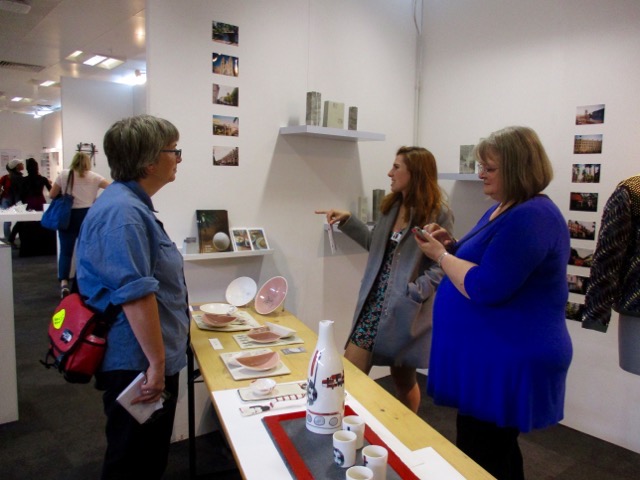 There were many talks to attend over three days which were very informative.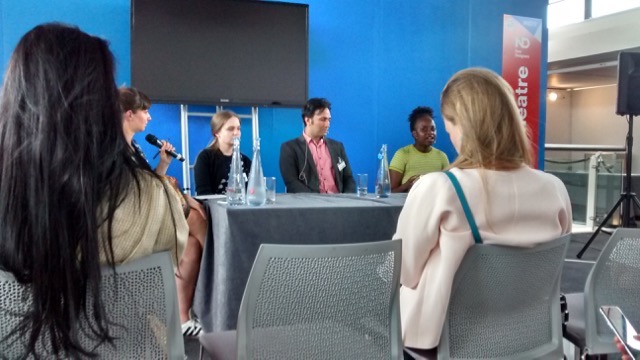 And a little time to visit some favourite places: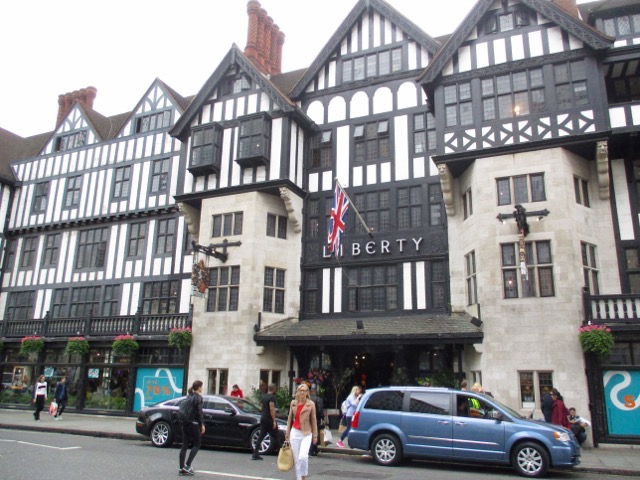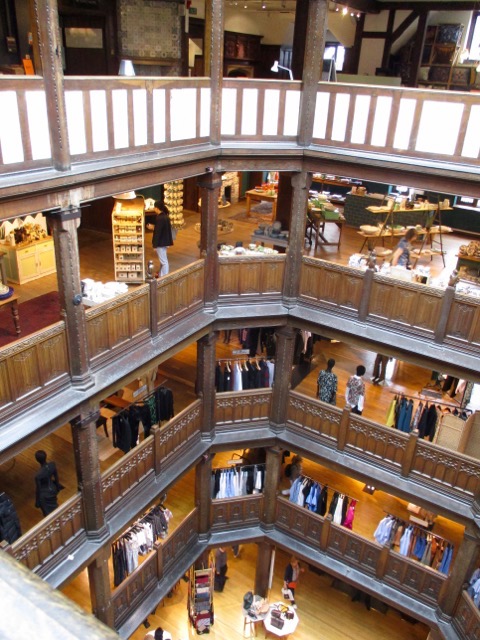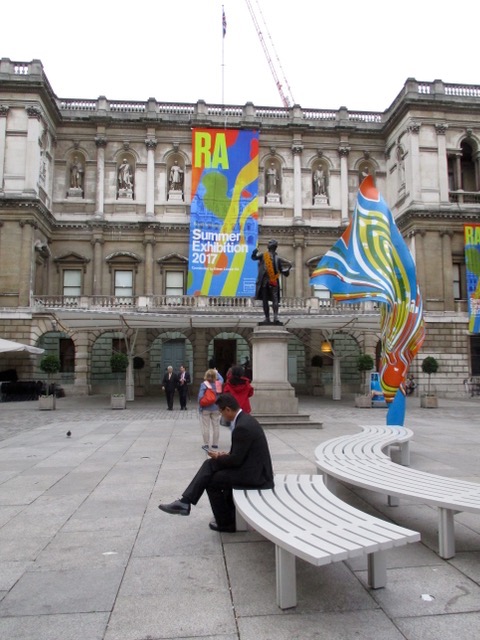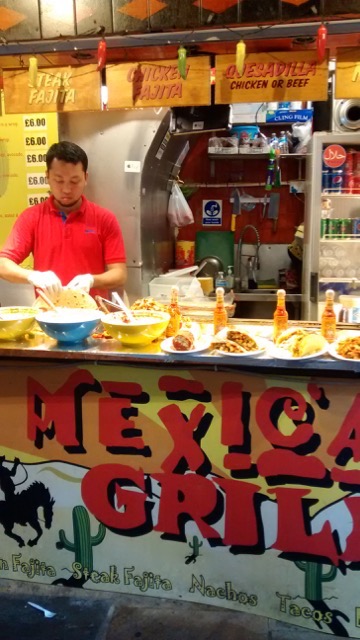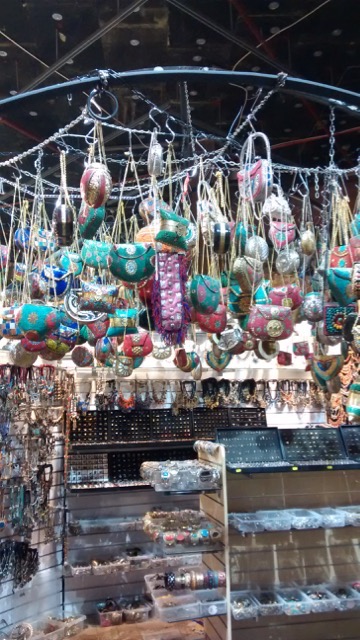 Especially good was the Reveal Festival on the Friday evening at the V&A to celebrate their opening of the Exhibition Road Quarter galleries and outdoor courtyard. An extravagant mix of Boiler Room, the English National Ballet, and many other musicians, singers and dancers made it a very memorable night. 
What a beautiful place to eat in!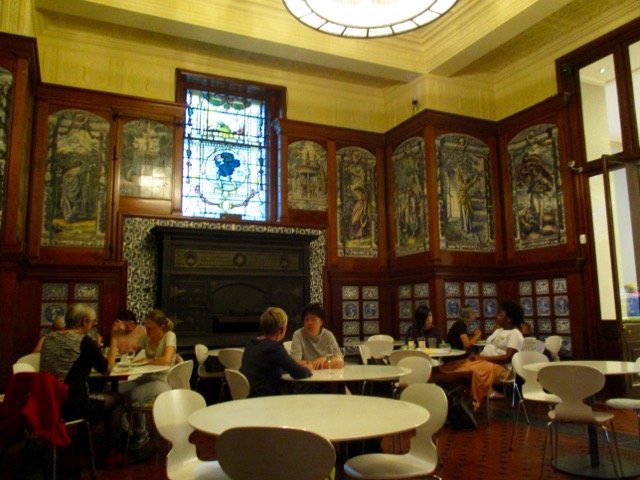 Can you spot me?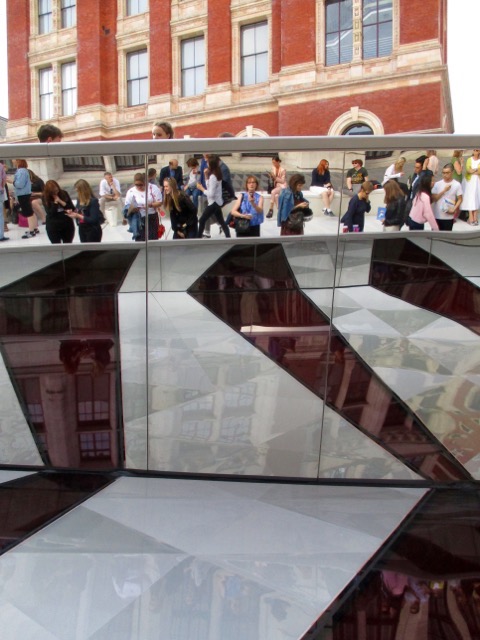 Highly reflective, hmm.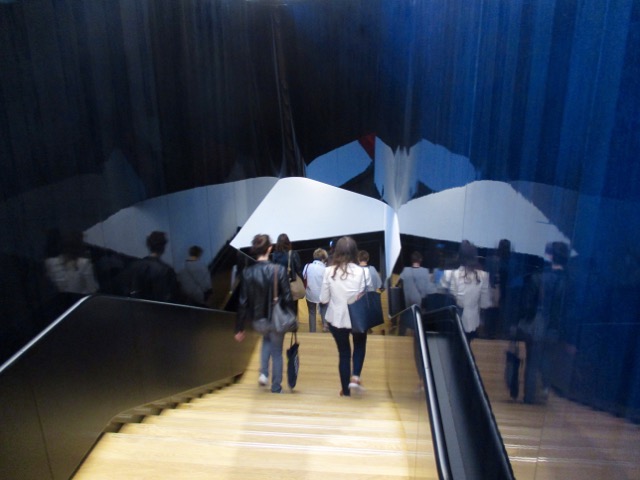 Feeling subterranean.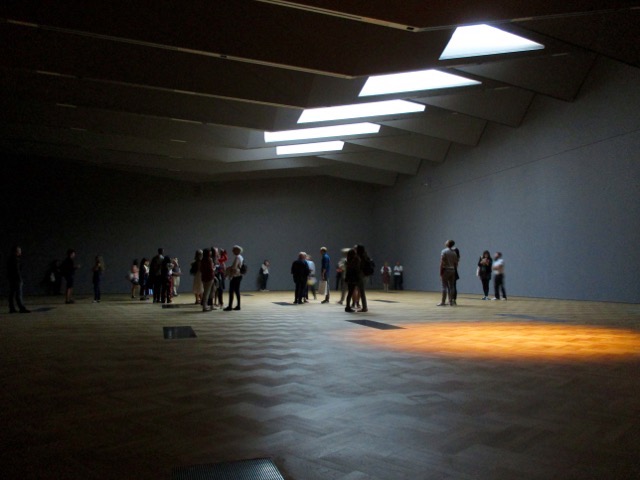 A summer party feeling.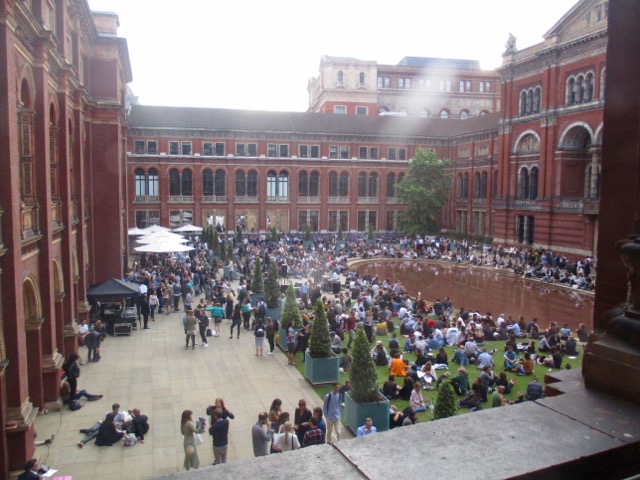 Choreographed by impulses.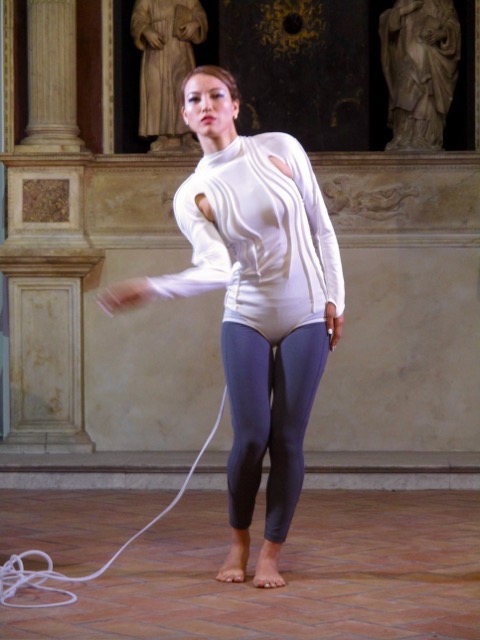 Boiler Room in the entrance had everyone dancing.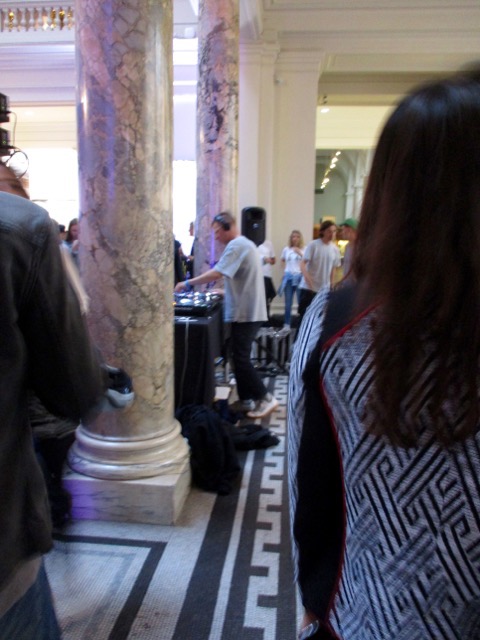 Overall, I'm glad I took part in New Designers. Most of the exhibitors were hand-picked as being the best of this year's graduates and it was very inspiring to see examples of unique, accomplished, vibrant, and exciting work. Everyone commented that the footfall at the show was very low this year, which was disappointing, however it did mean not having to battle with the crowds to see things. Always a silver lining!
Would I do it again? Yes and no. 
Being halfway through my research, I used it as an opportunity to gather research from visitors and exhibitors, testing the temperature for sustainability in textiles. As a graduate I would approach things differently. I'd be more prepared earlier, not just with my work but with submitting publicity and maintaining my presence on social media. It's a very commercial show with appreciation of highly finished products. I'm not sure how well my work fits this mould, but I had encouraging feedback from other artists and businesses, so time will tell. I'm very grateful for the opportunity and feel blessed to have been part of such a wonderfully creative event.
Phew, a long post! Thanks for sticking with it! In the next one I'll tell you about my jacket!!!
xxxxxxxxxxxxxxxxxxxxxxxxxxxxxxxxxxxxxxxxxxxxxxxxxxxxxxxxxxxxxxxxxxxxxxxxxxxxxxx