This time of year is always especially busy if you have an allotment, and although the season hasn't been great weather-wise, there is still an abundance to deal with.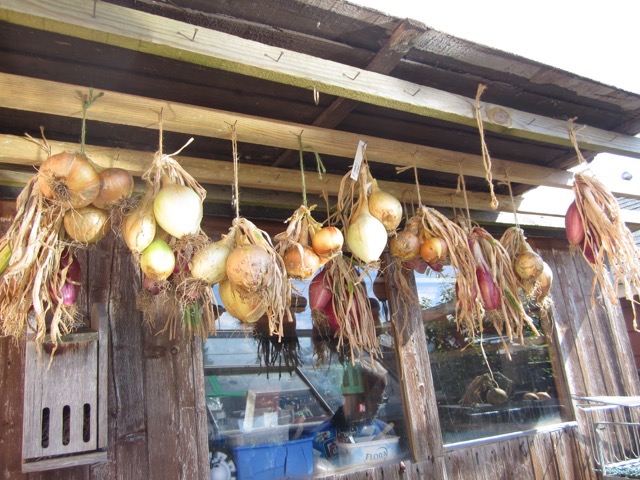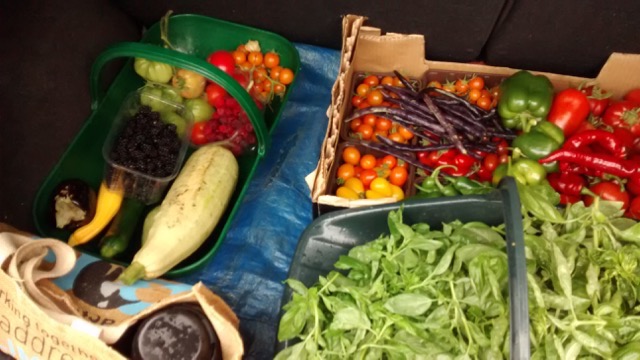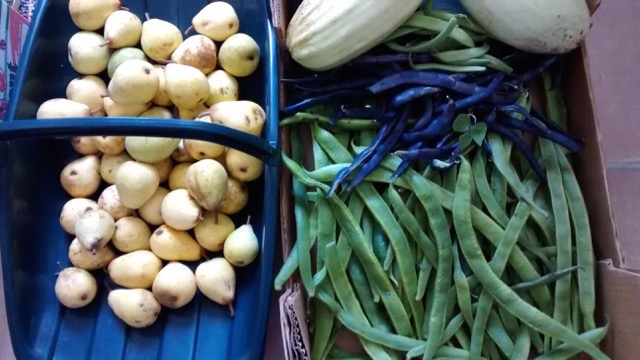 So, juicy pears are being scoffed at every opportunity and the rest baked into pear and blackberry cakes, (we don't yet grow blueberries!) pear crumbles and pear and ginger muffins. Tomatoes are transformed into jars of sauce, some chunky others smoother, for pasta, stuffed vegetables, etc, and jalapenos and shallots have been pickled.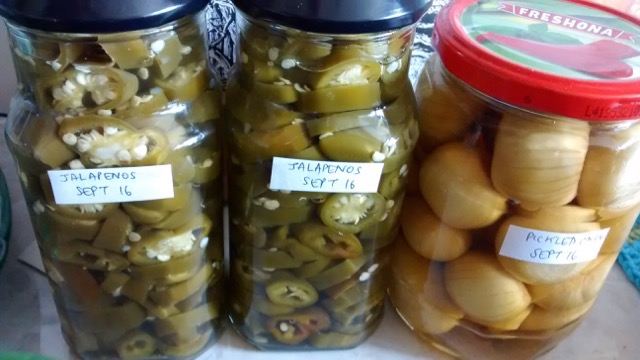 We were also fortunate enough to have a neighbour bring us a bag of damsons this week which we've made into jam and damson gin. So the peppers are not the only thing which will be pickled!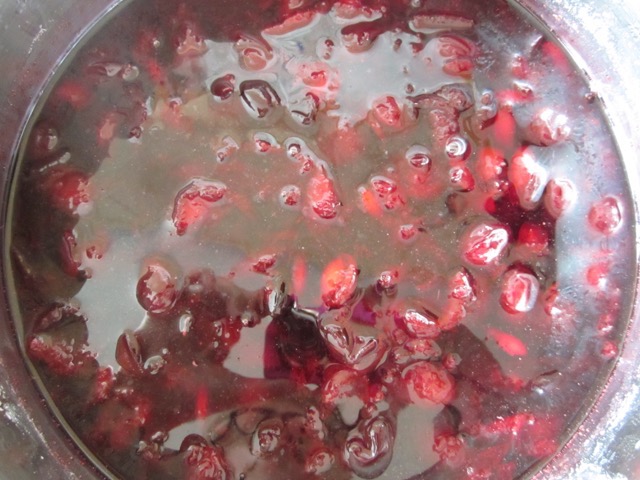 We aim to make at least 52 jars of tomato sauce, one a week for the year ahead and a few extras to give to children who turn up empty handed and leave laden.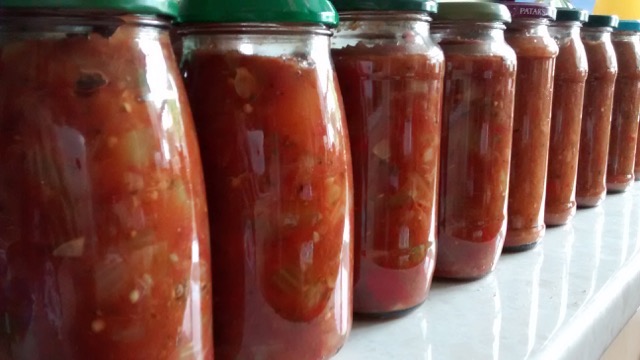 Here's our recipe. It makes about 10 large jars.
1 large bowlful (see photo) of chopped onions. I know this shows a bowl of pears but it's to show the bowl, not the contents!
1 large chopped aubergine (from the market this year, hopefully home-grown next year)
2 large or several small chopped courgettes (zucchini)
1 large bowlful of chopped peppers (capsicums)
2 bowlfuls of chopped tomatoes
4 sticks of celery chopped
a good cupful of tomato puree (shop-bought)
4 or 5 cloves of garlic
black pepper
oregano to your taste
Add all the ingredients to a large Maslin pan and simmer until tender.

Use a stick blender to achieve the consistency you want.

The sauce should be bottled into sterlised jars. Both the jars and the sauce should be piping hot. Put lids on immediately and tighten them up.

Stand the jars in a pan of gently simmering water for 20 minutes.

Remove them from the water REALLY carefully! We invested in jar-lifting tongs as we've scalded our fingers one too many times.

Dry the jars and label them. They will keep for up to 2 years but never do because we eat them way before that!


We've also been known to add mushrooms and chillis, but as you can see, it's a very flexible recipe so you can adjust to taste.
This year's damson gin is being made to a different recipe. Last year's was deliciously syrupy but we thought we'd go for something more gin-like this time, so added less sugar. Here's what we did.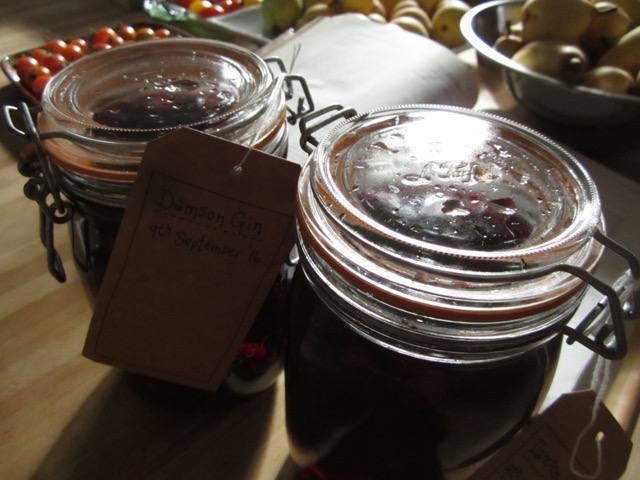 2lb or 1 kilo of damsons
12 ozs or 350 gms of white granulated sugar
1 litre of gin (we use the cheap stuff and it tastes great!)
Wash the damsons.

Prick the damsons all over with a fork and divide between 2 sterilised Kilner jars (one litre size)

Pour half of the sugar into each jar.

Pour the gin over. It should fill the 2 jars to just below the brim.

Swirl the jars to mix.

Label.

Swirl the jars every day until the sugar has dissolved, then leave for three months in a cool, dark place.

Have a taste around Christmastime (just testing, of course).

If it tastes ok, strain and bottle it. You could add more sugar at this point and leave it a bit longer.

Leave for another three months.
 Delish!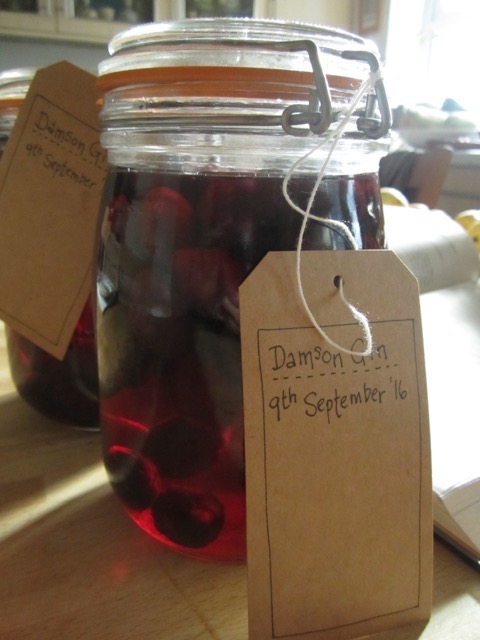 I feel very blessed that we have an allotment. One seed goes in the ground and the harvest comes back tenfold, twentyfold, fiftyfold! Thank you Lord! Sometimes it gets a little repetitive (oh lovely, runner beans again!) and menu planning goes out of the window and it's a case of, "What needs to be eaten?", but it's SOOO good to be able to eat freshly picked veg and fruit that hasn't travelled miles to be here or been sprayed with chemicals. And we really appreciate every mouthful because we've watched it grow. We do buy a little veg, - we've not yet managed to grow a good crop of carrots in the last ten years! We freeze, bottle and pickle our surplus and make chutneys and jams. We're a long way off being self-sufficient (as in the 1970s UK TV sitcom), but it really is a 'GOOD LIFE'.